Complete Your Outdoors with this Furniture Set
No outdoor is complete without Genuine Ohana Outdoor Sectional 20Pc Sofa Set. You know how hard it is to find the right furniture for outdoors which can withstand weather. Now no more settling for dull designs and poor quality furniture set. With the Ohana Outdoor Sectional Sofa, Dining and Chaise Lounge Wicker Patio Furniture Set you get the ideal solution for your outdoor furniture needs.
Priced with great discounts, this product meets the furniture needs of every kind of outdoor easily. The sofa set is made from lightweight, durable and stylish aluminum frame. The wicker used is strengthened to withstand weather conditions using black PE resin. There is no match for this furniture set at the price it is offered.
Elegant Design & Durability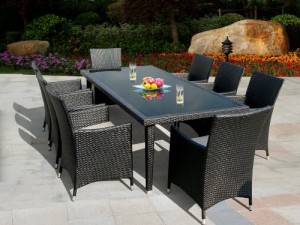 Most outdoor furniture sets compromise on designs for durability. Ohana however brings but design and durability together in this patio furniture set. All-aluminum frame provides it durability and minimalistic design which brings it at centre of all outdoor events.
Hand woven, PE resin infused wicker makes the furniture impressive in design at the same time easy to maintain. Wicker strands of this furniture set are resistant to cracking and fading. You don't have to think twice while cleaning them. Cushions are kept simple yet ergonomically effective in providing extra support to your back. Now no more concern of back pains due to long hours seating.
Premium quality material used ensures that you are investing in the right product. Cushions are water resistant which makes them easy to maintain. Also this furniture set comes with clippers to hold sofas and chairs in desired configuration. Additionally the back and seat cushions are held in place by Velcro strips.
Product features and Specifications
Complete 20pc furniture set with 9pc sectional sofa set, 9pc dining set and 2 chaise lounge set
Cushion covers are made by Spuncrylic® that are fade resistant
All-aluminum lightweight frame, durable and stylish
Hand woven wicker for unique design, wicker strands strengthened by black color PE resin
Ergonomically designed back cushion, extra support for back for easy seating
Added Velcro straps to keep the back and seat cushions in place, makes maintenance easy
Clippers are provided that hold the chairs and sofas together to keep desired configuration easily
Sofa set comprises of:
3 Corner chairs each of dimension 32″Wx32″Dx28″H
4 Middle chairs each of dimension 26.5″Wx32″Dx28″H
1 Ottoman of dimension 32″Wx32″D
1 Coffee table of dimension 33.5″Wx22″Dx17″H
The height of sofa set is 28″ which appropriately supports the back. Dining set includes 8 chairs with beige cushions. On the down side, the dining set does not have an umbrella hole that can be a problem if you want to put an umbrella.
This Ohana furniture set has all the desired features to make it one of the best products in lawn and garden furniture category. With timeless design, minimalist charm and ergonomic cushion design there is no other better furniture for outdoors.
So should i get this?
Definitely a YES! With this furniture set, you can't go wrong. Prepare to make your guests jealous when they see this set on your patio.
We recommend that you pick the Genuine Ohana Outdoor Sectional Sofa, Dining and Chaise Lounge Wicker Patio Furniture Set (20PC set) up from Amazon.com where you can save money and get awesome deals on patio furniture.

Get Three Free Patio Covers ($567 value ) when you purchase from Amazon.
CLICK HERE TO CHECK OUT THE GENUINE OHANA OUTDOOR SECTIONAL SOFA, DINING AND CHAISE LOUNGE WICKER PATIO FURNITURE SET (20PC SET).
Customer Reviews:
By Daniel Glavin:
Can't say enough good things about this product and this company. First off the set is fantastic. Very comfortable and looks amazing. The free rain covers were a welcome touch too as we had rain 2 days after the set arrived.
Also very very pleased from a customer service perspective. One of the pillow covers had some mild stains on it and Ohana not only replaced it but they sent 2 and sent it overnight. Outstanding experience and outstanding product. Read More at Amazon.com…
By Goenuel Ince:
The set looks great, Service was great, Delivery was great, Everything reached perfectly and undamaged, super comfortable and and and… I would highly recommend it and I would buy it again. Read More at Amazon.com…
By Aaron J. Dones "Aaron":
We wanted to have a full set of deck furniture that all matched. I was tired of the piece meal furniture that we had acquired over the years, but didn't want to spend a fortune.
We went to the local patio/deck furniture store, and for a similar set, perhaps a bit better in quality, it was nearly $15 grand plus several hundred for covers.
The difference between this set, and the $15 grand set, were:
1- thicker cushions. This set has 4″ cushions, the expensive stuff is 5-6″
2- color of cushions. this set has an off white color, which is certainly neutral, but not very exciting. The expensive stuff gave us the option to order what ever Sunbrella fabric we wanted.
3- quality. I think this set is just fine, but when comparing to the expensive stuff, you can see a small difference in quality. Such as the weave on the expensive stuff seems thicker.
Having said all that, this is a terrific bargain for very nice furniture, with covers included.
It came well packaged and protected, and we did not have any damage at all. Expect to spend some time unboxing and disposing of the card board, but that is to be expected.
I gave the delivery driver a small tip, and he carted away the 3 wooden pallets that it came shrink wrapped on. I can give my recycle company cardboard, but had no place to go with the pallets.
For what we saved, we can have any cushions we want made, and we have an awesome looking set of matching deck furniture.
One cover was missing, so I contacted customer service, and they promptly sent out the missing 3rd cover, no questions or hassles.
All in all, a very good experience, and we are very happy saving over $10k. Read More at Amazon.com…
By Kelly:
I received most of my items quickly. Far sooner than anticipated actually. There was an issue with the trucking company upon delivery however. I luckily was there to sign and realized that I was missing a piece and they were trying to give me someone else's items instead. I had a great response dealing with the company to resolve my issues via amazon and the missing piece was sent out. Also, after unpacking the initial delivery one of my corner sectional pieces was defective and the company asked that I send a picture and they would replace it. Which they did.
The table and chairs are stunning. Comfortable and gorgeous. The sectional sofa is also comfortable considering the cushions are only 4 inch. The chaise lounge chairs are my absolute favorite pieces. I lay out on them constantly. I would add that if possible I would buy additional lounge cushions for the chaise if they sold them, only because those are the most frequently used and I fear how they will hold up over time.
The pieces are really light weight which will be a blessing when it comes time to store them for the winter. I realize it came with clips and covers, but I haven't used either yet. Love to be able to move the pieces around the fire pit as needed and despite their light weight they aren't blowing away or anything.
To have matching pieces that look so elegant is a joy. I have looked at other pieces at garden stores and pottery barn, and I have to say for the money this is your best bet. Worth every penny! Read More at Amazon.com…